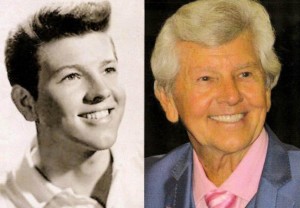 Jimmy's music takes us back to a special time and place in our memories and in our hearts. Who can forget 1958 and the first time they heard, "Just A Dream"? The good-looking young man singing the song would have been quite enough for the teenage girls, but the wonderful and very unique voice of that young man was what won us over. Being raised in Louisiana culture with the rhythm & blues influence and his extraordinary soulful vocals, Jimmy became known as the, "swamp pop R&B teenage idol." He was one of the biggest recording stars of the day, hitting his stride with seven charted hits between 1958 and 1962, three being in the Top Ten. He was one of the most popular teen idols of the '50s and '60s.  
Jimmy continues to write and record and successfully entertain fans all over the US. He is a classic entertainer with loyal fans who are never disappointed. With the same wonderful voice, just as strong as it was in 1958, and that beautiful "killer smile," Jimmy rocks and croons and gives the best of himself in each and every show. He loves his music and he loves performing for his fans.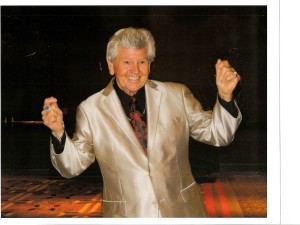 And the fans are saying….
"Over the years I've had the honor of meeting so many talented singers and legends from our era but never has it been such an honor to meet such a remarkable person as tonight. Jimmy it was truly an honor to meet you. I admire your talent, professionalism and graciousness. It was great to finally meet that person behind the smile we have all come to love. You are a remarkable person and incredible talent. Thank you for being you!"  – Maryjo 
"I love the way you treat your fans jimmy……a class act."   – Bill
"Thanks Jimmy for an outstanding afternoon. It was worth waiting the 55 years it took for me to see and hear you in person."  – Gene
"Jimmy, today was wonderful! Not only getting to see you (which was fantastic in itself), but to walk into the venue with you and chat a bit, wow! That meant so much to me!! I'm already looking forward to seeing you again next year!! I'll be watching your schedule."  – Sandy
"Charming as ever, but most of all sincere. That's why we respect and love our dear Jimmy…"  – Pat
"Jimmy, I loved your performance at the Doo Wop Show in Hauppauge NY. I was blessed to have met and have photos taken of you. Hugs to you for being such an awesome entertainer and genuine person!!"  – Delores  
"Jimmy, it was an honor to meet you at the Doo Wop show last night and take a photo with you. You look so youthful and have an unmistakable smile. You are a great entertainer and a gentleman for all ages. Looking forward to playing that new CD 'Everybody Needs Love'. Stay well and may God Bless you each and every day."  – Brian  
"Good Morning! While sitting this morning eating my cheese muffin, I got the urge to watch, Go Johnny Go!  Just lovehearing you sing! So glad I recorded it! Johnny Melody, 'Don't You Know!!' Remember sitting and being so mesmerized by those beautiful eyes and that smile of yours. You still have it Jimmy!"  – Donna  
"Thank you sir…. you are not only an inspiration musically, but also by your grace."  – Marc  
"You brighten up the world Jimmy, good, good, good and wonderful spirit that you have."  – Olivia  
"Jimmy played in Santa Fe, New Mexico in the early fifties….he was quite memorable….smooth, a true class act, I wish we could all relive those wonderful days. The room was filled to capacity and people listened. Everyone there wanted to be just like him."  – Roman
 "Keep up the great work! Thanks."  – Ray  
"A fabulous performance last night Jimmy. Thanks so much for the picture of you and I and please come back to Red Bank real soon!"  – Nan 
"Saw you perform on PBS last night, you were great! Never sounded better. God Bless."  – Lawrence
"Go, Jimmy, Go! It was wonderful seeing you this weekend, where your performance and the wonderful man you are, shone like the night! You are a gracious and good man, and I thank you for the greeting you gave me, which truly played such an important part, for me, in making the evening so very special! I hope that you enjoyed this year's Doo Wop Weekend experience, as we, the fans surely did, and I hope that I get to be greeted again by you, same time, same place next year! Long live Doo Wop weekend, and definitely, long live doo wop!"  – Jackie  
"What a great voice you still have Jimmy! Yours is the least changed voice of any rocker that is now beyond 60 years old. You sound the same as you did in the late 50s. Unbelievable."  – Richard 
"God bless you for what you do for your fans!!!!!"  – Evie
 "He had somethin' special when he recorded for Ace Records. He still has that same quality and it shows in his performances today. Nice goin' Jimmy."  – Bill
 "Jimmy Clanton,  love all your music!!!!!"  – Donna
 "No matter how down I get that smile of yours always brings me up."  – Janice
 "God bless Jimmy for keeping the music going for us."   – Midge
 "If you need practice singing to anyone, just call me."  – Lori
 "Jimmy, I've been following you for years. My 1st girlfriend and I used to dance slow to 'Another Sleepless Night', Great memories. I remember when oldies were newies. I saw you on a PBS concert and was amazed to hear how good you sing. Your phrasing is so good."  – Malin
 "Amazing performer! Still have it!"  – Judy
 "It is great to see a legend of the past like Jimmy Clanton still singing the song he made a hit at the age of 17."  – Dan
 "Your music will always be dear to my heart. Thanks for the memories."  – Pauline
 "He is as good now as he ever was."  – Rex
 "Jimmy Clanton was my crush at 14, and his singing still is great!"  – MJ
 "All I can say if you have not seen Jimmy live on stage you haven't lived."  – Madalyn
"Such an unmistakable voice. Such a talent! From my parent's generation, so I grew up hearing all the fine music from the 50's. Love them! Go Johnny Go. I remember Just A Dream when it 1st hit the charts…. the great Jimmy Clanton. This became a big hit for him."  – Cynthia 
"Cajunastic!"  – Evie
"Jimmy, in the midst of all the other rock and rollers, YOU were a breath of fresh air. Never heard anything negative about you. You broke so many hearts. Did you even realize the effect you had on the girls. AND, look at you now. Wow! God blessed you with that winning smile and great looks and so much talent, you're still going strong." – Patsy
 "Solid gold from Jimmy Clanton."  – Joe 
 "
The inside of the closet door at my folk's house still says 'I love Jimmy Clanton' that I wrote in there when I was 12. I told Jimmy this story after a concert and he gave me a kiss. My girlhood dream finally came true. Sigh!!!!"  – Anna
"You will always be my Rock and Roller!"  – Sharon
"Jimmy is sounding and looking better than ever before! What an awesome entertainer who has stood the test of time!"  – Lady
---
Jimmy Clanton's Farewell to the Bayou Show
 May 31, 2014
Raceland, LA
"As I was preparing for a show at a casino near New Orleans a few years ago, I was thinking, "If this were my last show, where would I want it to be." In June 2013, my Executive Associate, Sandy Weeks and I talked about the possibility of doing a final "one man" show in the Bayou. As I had played Rhythm and Blues and the Rock n Roll music of my era along the Gulf Coast, I chose the Raceland area because it was centrally located and where my career of over sixty years started. Sandy went to work to make the show become a reality." Jimmy Clanton
That "reality" is now etched into the hearts and minds of so many Jimmy Clanton fans. Imagine a packed theater, the atmosphere filled with anticipation and pure excitement to be witnessing a musical icon's final show in his beloved home state, and a one-man show to boot. WOW!
The flow of the event was phenomenal. Jimmy shifted gracefully from one song to another, and, along with his playful and enthusiastic banter, Jimmy didn't just entertain, he held court!
Local entertainers included in this spectacular event: Jimmy's hand-picked band, Blue Eyed Soul Revue; Terri McPhail-Chiasson who sang duets with Jimmy and performed, "You Baby, It's You", a beautiful song written for her by Jimmy; Lyn Cantrell sang, "Jimmy Oh Jimmy", a very special song she wrote and recorded for Jimmy in 2011; and Tammy O. Trant emceed the show and performed a beautiful duet with Jimmy. Also, keeping it local and Cajun, Terri, Lyn, and Tammy sang back-up for Jimmy – his own Supremes.
Throughout the evening, Jimmy's flawless versatility as a top-notch performer was more than evident – from the opening number, "Go Jimmy Go", to his last and very appropriate closing song, "Lovin Louisiana". Performing at least 16 songs during the show, the Jimmy Clanton we all know and love never once broke stride and proved yet again to be the absolute ultimate entertainer.
"I am in awe of how the good Lord helped put all the pieces together for the night of May 31, 2014! I cannot put into words how pleased and happy I am with the results. Without a doubt this show has been the HIGHLIGHT OF MY CAREER!!!"   Jimmy Clanton
This very special event continues to receive rave reviews – absolutely full of praise and accolades such as, "you delivered", "thanks for the memories", "the show was all that you promised and more", "what a wonderful memory you gave us", "your show in Raceland was pure perfection", "the show was the all-time highlight of my life", to the personal comment from Terri McPhail Chiasson that this show was, "the best experience of my musical career without a doubt!!!"  These comments mean so much to not only Jimmy Clanton personally, but to all involved in this incredible one-man show.
For those who missed the show and those who wish to relive it again and again, the professionally recorded DVD of the entire event is available for sale in our "Store" on this website. Be sure and order yours before the stock runs out!  Webmaster
---
And the fans are still saying…
"I just received my copy of Jimmy Clanton's, "Farewell to the Bayou" DVD. I was so blessed to be able to attend this show.  I don't know very many artists, performers like JC, these days. Very few around.  This DVD has some of JCs hits, and some great stories. It's the complete Jimmy Clanton that he shares with his family and fans. How many singers do that? Sometimes, for me, it's not only about the music, or the lyrics, … it's also about the professionalism and integrity an artist has that makes you want to be better, to do better. And JC definitely has always had that going on.  A great show, a great performer.  A songwriter with the goods! In charge and always hip. A huge "Thank You" to Jimmy Clanton, and everyone involved in putting this DVD together and making this show happen. A wonderful memory I can watch over and over again! It's worth it."  – Carol
"You are awesome Jimmy. I saw you in Upland and bought your Farewell Bayou DVD and Oh My Gosh, it's fantastic! We were in awe watching it but still had this huge smile as it just got better and better. Yes, a few joyful tears came at the end, but they were good tears. I am so happy I have it forever.  You are one very special entertainer and person. I sure did choose the perfect teen idol many years ago.  I now have 2 signatures on my Jimmy Happy and hope to get a third.  Take good care and love seeing your ballerina daughter!  God, family and friends is what it's all about."  – Trish
"Hi Jimmy… my name is Brenda Lathrop Johnson born and raised in Golden Meadow, La. but now living in Baton Rouge,La. spending time with our Grandson and his parents then back to Golden Meadow to live the rest of our retired days. I just wanted to let you know that I own a piece of your shirt that was torn off your back way back when you and your band played at the Bellevue Hall in Galliano, La. That was many many years ago… I was only 15 then. I was not involved in the tearing, but I was able to get a piece which I still have today. I am 72 years old almost 73 in Nov. … I was also in your fan club which I received pictures…all saved together with other things when I was very young girl. I will always remember when you sang Just a Dream and us young girl was screaming our heads off. LOVED IT THEN and still LOVE it today. Thanks for giving me the chance to know you then and being your Facebook Friend today. Have a GREAT DAY !!" – Brenda
"You inspire more than you know, with your music, your Christian ministry and your caring heart. And we are better just for knowing you. God continue to bless you always." – Barbara
"Thank you for all you do for all of us Jimmy!" – Judy
"I loved watching the crowd in Denver. For awhile, as I stood on the stairs just watching, I could swear Jimmy's fans were lined up at least 30 feet back. And, the depth of people front to back was at least 15 feet. Even from the back, a lot of fans were holding camera phones from as high as they could stretch, snapping tons of pictures. And, as they got closer to Jimmy, they kept taking more pictures. Jimmy's fans really love him!" – Marilyn